ICE
Excentric moment: 14 kgm
Max. centrifugal force: 812 kN
Max. frequency: 2300 rpm
Excentric moment: 3.2 kgm
Max. centrifugal force: 275 kN
Max. frequency: 2800 rpm
Excentric moment: 4.6 kgm
Max. centrifugal force: 395 kN
Max. frequency: 2800 rpm
Excentric moment: 6 kgm
Max. centrifugal force: 411 kN
Max. frequency: 2500 rpm
Excentric moment: 8 kgm
Max. centrifugal force: 464 kN
Max. frequency: 2300 rpm
Excentric moment: 11.5 kgm
Max. centrifugal force: 670 kN
Max. frequency: 2300 rpm
Excentric moment: 23 kgm
Max. centrifugal force: 645 kN
Max. frequency: 1600 rpm
Excentric moment: 3.2 kgm
Max. centrifugal force: 275 kN
Max. frequency: 2800 rpm
Excentric moment: 32 kgm
Max. centrifugal force: 955 kN
Max. frequency: 1650 rpm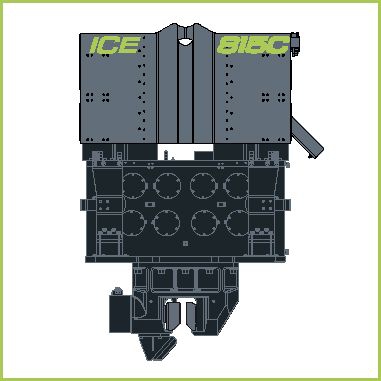 Excentric moment: 4 kgm
Max. centrifugal force: 345 kN
Max. frequency: 2800 rpm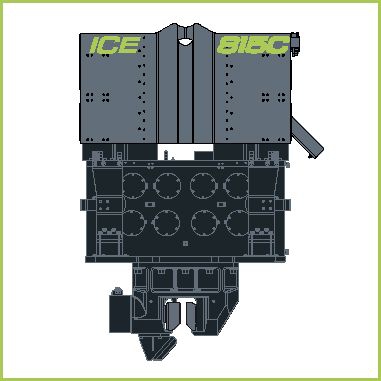 Excentric moment: 46 kgm
Max. centrifugal force: 1250 kN
Max. frequency: 1570 rpm
Excentric moment: 6 kgm
Max. centrifugal force: 410 kN
Max. frequency: 2500 rpm
Excentric moment: 54 kgm
Max. centrifugal force: 1711 kN
Max. frequency: 1700 rpm
Excentric moment: 8 kgm
Max. centrifugal force: 464 kN
Max. frequency: 2300 rpm
Excentric moment: 81 kgm
Max. centrifugal force: 2570 kN
Max. frequency: 1700 rpm
Excentric moment: 110 kgm
Max. centrifugal force: 2300 kN
Max. frequency: 1380 rpm
Excentric moment: 0 – 6.5 kgm
Max. centrifugal force: 0 – 377 kN
Max. frequency: 2300 rpm
Excentric moment: 0 – 7.5 kgm
Max. centrifugal force: 0 – 435 kN
Max. frequency: 2300 rpm
Excentric moment: 130 kgm
Max. centrifugal force: 2794 kN
Max. frequency: 1400 rpm
Excentric moment: 150 kgm
Max. centrifugal force: 3224 kN
Max. frequency: 1400 rpm
Excentric moment: 170 kgm
Max. centrifugal force: 3654 kN
Max. frequency: 1400 rpm
Excentric moment: 200 kgm
Max. centrifugal force: 4300 kN
Max. frequency: 1400 rpm
Excentric moment: 250 kgm
Max. centrifugal force: 5374 kN
Max. frequency: 1400 rpm
Excentric moment: 286 kgm
Max. centrifugal force: 6150 kN
Max. frequency: 1400 rpm
Excentric moment: 0 – 6.5 kgm
Max. centrifugal force: 0 – 377 kN
Max. frequency: 2300 rpm
Excentric moment: 0 – 7.5 kgm
Max. centrifugal force: 0 – 435 kN
Max. frequency: 2300 rpm
Vibro hammer type: Variable Moment
Excentric moment: 0 – 12.0 kgm
Max. centrifugal force: 0 – 700 kN
Excentric moment: 0 – 19.0 kgm
Max. centrifugal force: 0 – 1100 kN
Max. frequency: 2300 rpm
Excentric moment: 0 – 23 kgm
Max. centrifugal force: 0 – 1350 kN
Max. frequency: 2300 rpm
Power packs (photo 2)
Power packs
Diesel engine: Caterpillar C9
Max. power: 242/329 kW/HP
Max. frequency: 2200 rpm
Diesel engine: Volvo TAD 873 VE
Max. power: 235/320 kW/HP
Max. frequency: 2200 rpm
Diesel engine: Volvo TAD 1352 GE
Max. power: 363/494 kW/HP
Max. frequency: 1800 rpm
Diesel engine: Volvo TAD 1374 VE
Max. power: 375/510 kW/HP
Max. frequency: 1800 rpm
Diesel engine: Caterpillar C15
Max. power: 403/548 kW/HP
Max. frequency: 2100 rpm
Diesel engine: Volvo
Max. power: 405/551 kW/HP
Max. frequency: 1900 rpm
Diesel engine: Volvo TAD 1643 VE
Max. power: 565/768 kW/HP
Max. frequency: 1850 rpm
Diesel engine: Caterpillar C18
Max. power: 563/755 kW/HP
Max. frequency: 1800 rpm
Diesel engine: Volvo TAD 1353 GE (2x)
Max. power: 898/1222 kW/HP
Max. frequency: 1800 rpm
Diesel engine: Volvo TAD 1643 VE (2x)
Max. power: 1130/1536 kW/HP
Max. frequency: 1850 rpm
Diesel engine: Volvo TAD 1643 VE (4x)
Max. power: 2260/3072 kW/HP
Max. frequency: 1850 rpm
Clamps (photo 3)
Clamps
Clamps are the connection between a vibratory hammer and the profile. ICE offers a wide range of clamps, with various clamping force and weight. Almost every type of profile can be driven or extracted.
TU series: sheet pile clamps for single or double sheets and H beams
TC series: tube clamps for tubes, pox piles or multiple sheets
TP series: pile clamps for concrete, wooden or steel tubes or piles
CS series: concrete sheet pile clamps, on request
Next to these clamps we have beams and x beams, and other accessories for special gripping arrangements. Please contact Sales Support for more for information and advice.
Clamp type: Sheet pile clamp
Clamp force: 400 kN
Operating pressure: 320 bar
Clamp type: Sheet pile clamp
Clamp force: 600 kN
Operating pressure: 320 bar
Clamp type: Sheet pile clamp
Clamp force: 1000 kN
Operating pressure: 320 bar
Clamp type: Sheet pile clamp
Clamp force: 1300 kN
Operating pressure: 320 bar
Clamp type: Sheet pile clamp
Clamp force: 1300 kN
Operating pressure: 300 bar
Clamp type: Sheet pile clamp
Clamp force: 1600 kN
Operating pressure: 320 bar
Clamp type: Sheet pile clamp
Clamp force: 2000 kN
Operating pressure: 320 bar
Clamp type: Sheet pile clamp
Clamp force: 3200 kN
Operating pressure: 320 bar
Clamp type: Sheet pile clamp
Clamp force: 3500 kN
Operating pressure: 320 bar
Clamp type: Double clamp
Clamp force: 550 kN
Operating pressure: 300 bar
Clamp type: Double clamp
Clamp force: 800 kN
Operating pressure: 300 bar
Clamp type: Double clamp
Clamp force: 800 kN
Operating pressure: 320 bar
Clamp type: Double clamp
Clamp force: 1000 kN
Operating pressure: 300 bar
Clamp type: Double clamp
Clamp force: 1500 kN
Operating pressure: 300 bar
Clamp type: Double clamp
Clamp force: 1750 kN
Operating pressure: 300 bar
Clamp type: Double clamp
Clamp force: 2000 kN
Operating pressure: 320 bar
Clamp type: Pile clamp
Clamp force: 2000 kN
Operating pressure: 320 bar
Clamp type: Double clamp
Clamp force: 3500 kN
Operating pressure: 320 bar
Clamp type: Pile clamp
Clamp force: 600 kN
Operating pressure: 320 bar
Clamp type: Pile clamp
Clamp force: 1200 kN
Operating pressure: 320 bar
Used Machines (photo 4)
Used
1998
Good working condition
Netherlands
2009
New
Netherlands
1991
Running condition
Netherlands
1994
Running condition
Netherlands
1998
Overhauled
Netherlands